The "Mission Memorial" Randall Knife:
By Captain Chris Stanaback


January 28, 1986 at 11:39 AM (EST) NASA Mission "STS-51-L", Space Shuttle "Challenger", just 73 seconds into it's flight was lost...

Dick Scobee

Michael J. Smith
Ronald Mcnair

Allison Onizuka
Christa MaAuliffe
Gregory Jarus
Judith Resnik


All 7 were lost. It was the darkest day in NASA and indeed space flight's history! The first photo shows The "Challenger" as it's first ignition and thunderous surge began to send it on it's mission. I have subsequent photos that, upon very close examination, show the small plume of smoke seeping out from an already faulty "O" ring. The brave seven were already gone...and did not even know it!
If you will take a look at this photo (and there will be no "gloom and doom" photos in this presentation) you will see the enormous concrete bunker under the brilliant orange exhuast flames of "STS-51-L". That concrete "pad" is launch pad #39-B.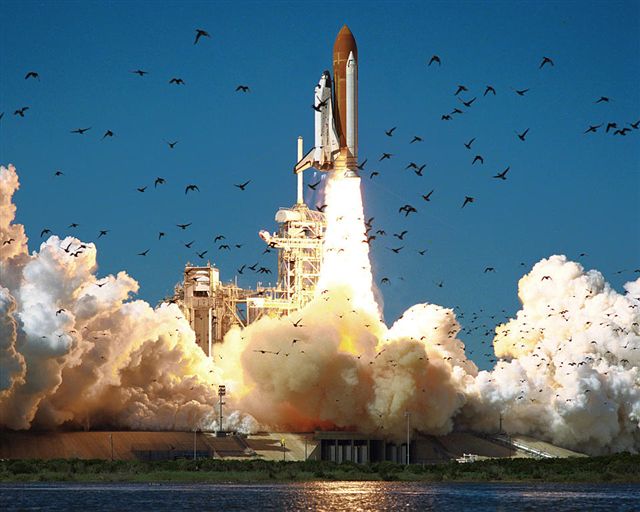 Although "Mission #STS-51-L" was a tragedy, a great deal of good came from it. NASA implemented totally new electrical and electronic sensors and sensing equipment in launch pad #39-A and others. Many civil engineers, contractors and others were given the task of demoltion and rebuilding of #39-A.
Most of the demolitioned materials were destroyed or taken to landfills. A few items, very few, were rescued. Which brings us to our Randall knife project. No longer referred to as a "mystery" knife, the working name for the project is the "Mission Memorial" Randall knife.
The next photo in this series corresponds to the presentation at the "RKS" meeting. This was the first announcement of any kind with regard to this "Mission Memorial" knife. I have been working on it for over a year, even before the "Blade" show last year. Shown here, in the back of my FJ "Cruiser" are some rescued pieces of the original G-3 insulators, installed originally in the early to mid 60's.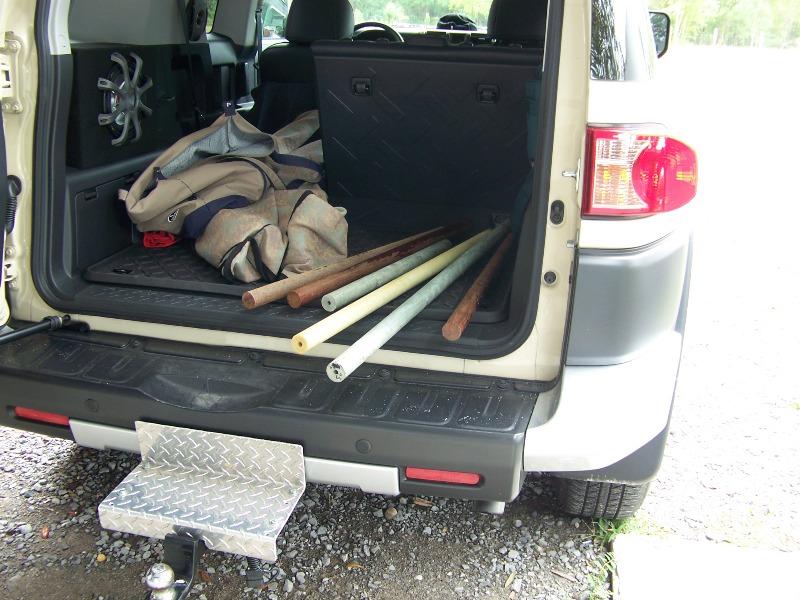 When originally installed the G-3 insulators were as tall as 12 feet. The longest piece I was able to obtain was less than 50 inches. Some of the material was drilled to facilitate full-length continous threaded pipe. This pipe is used to attach various circuits.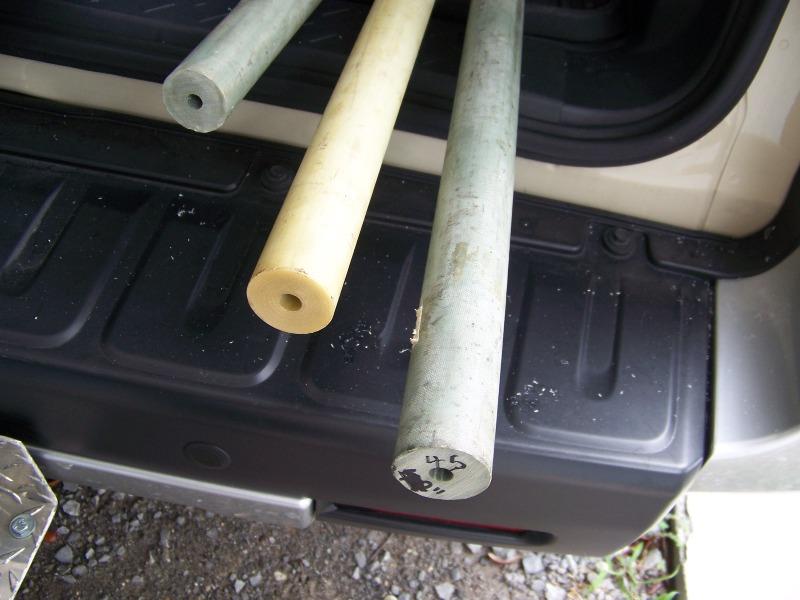 This "G-3" material is quite heavy compared to paper, linen or canvas micarta. The texture feels like canvas G-10. The exception to the "canvas" look is a few pieces of the brown, which is NASA brown G-3
linen". There was also some brown G-3 matching the other 2 colors in texture as well. Here's your's truly holding a couple of pieces of the "off white" and "green jade" NASA G-3.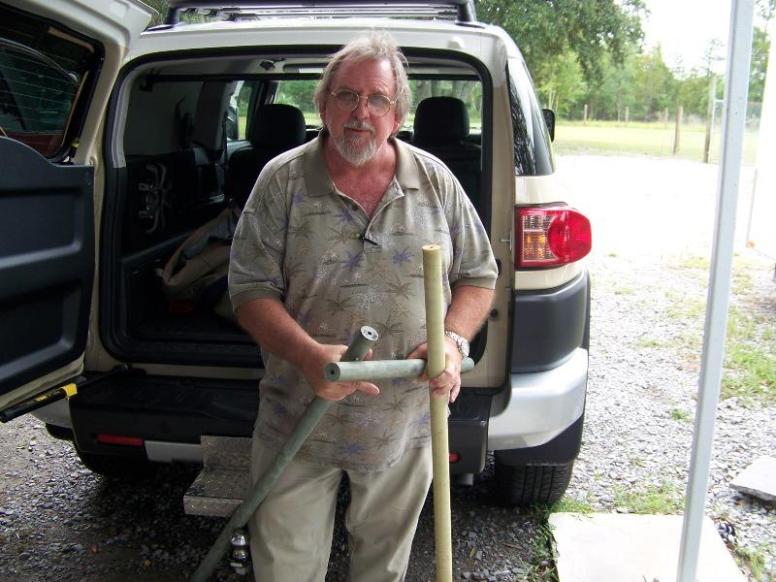 I was able obtain 3 colors of this material. (which surprised me as I only knew of "2"!)
Green Jade
Brown Linen & resin cloth
Ivory (off-white)

Best, Capt. Chris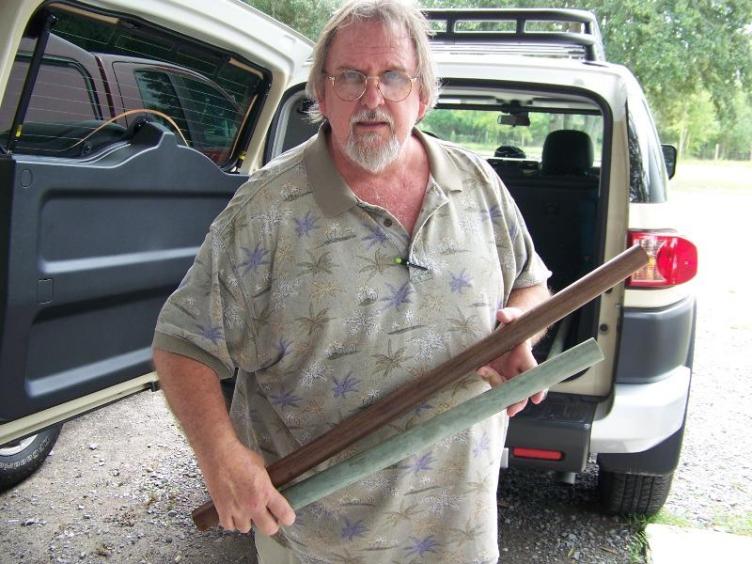 Prepping, i.e. "cutting" this stuff requires the use of a respirator! This is the only "inside" photo of my attempt to do this "inside"! (Actually my carpenter cut it...not me) I did cut 3 pieces of the stuff, just to say I did it! (But: I did it outside)!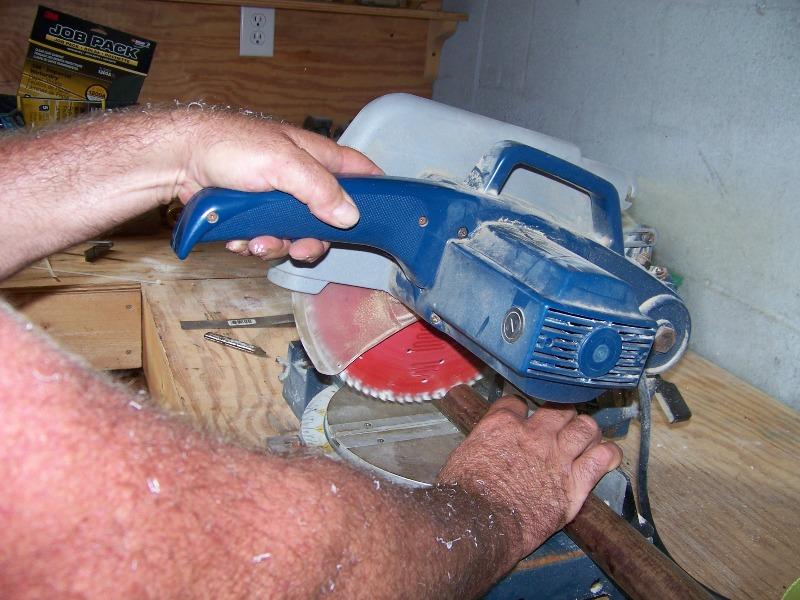 Finishing up the brown first, the material was cut into 5 inch lengths. The diameter is 1 1/2" (+) making it perfect for a "large" knife!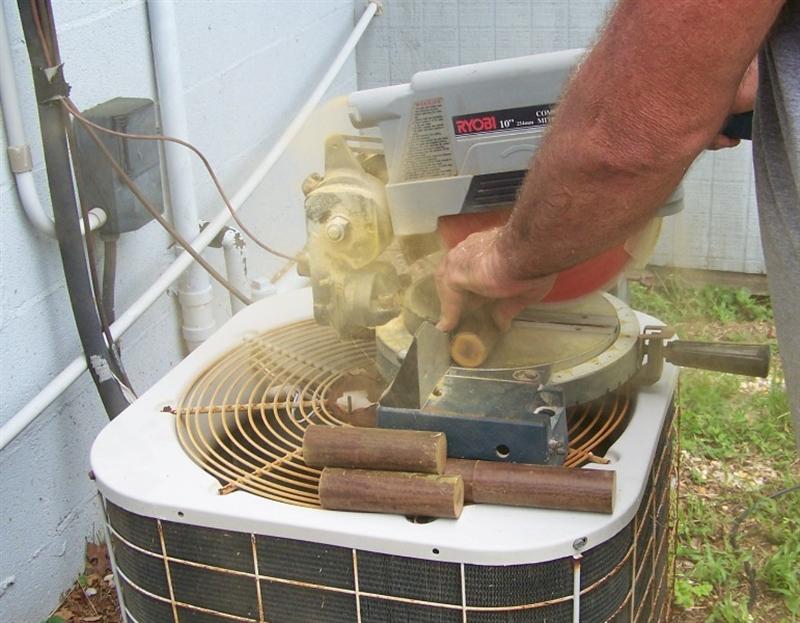 Moving on to the Jade Green proved a bit more difficult. A carbide saw blade was an absolute must.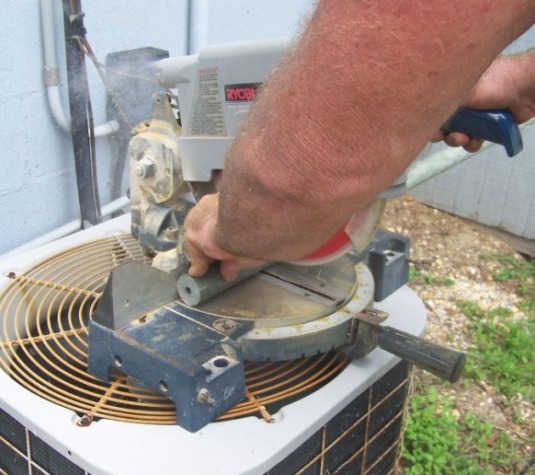 This is the last stick of Jade Green "G-3". Carefully measured and cut very C-L-O-S-E-, I had very little waste.
Best, Capt. Chris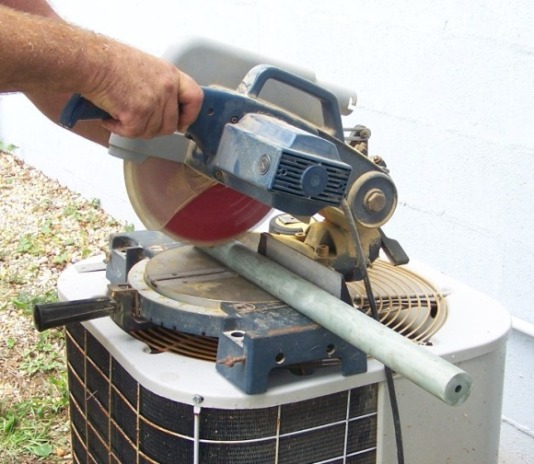 The ivory (off white) was the final material to be cut (and the least amount) and prepped for delivery to the Randall shop for approval. All pieces were approved. No rejects!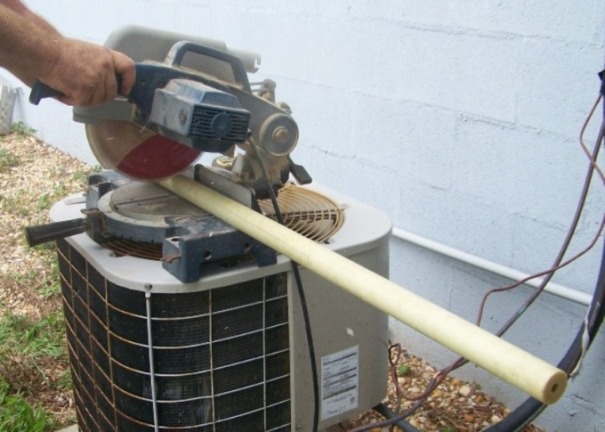 The final "batch" of this "G-3" is capable of producing a total of about 80 knives. Although I know of no more available, I am still searching. This plastic tote was carried to the "Blade" show.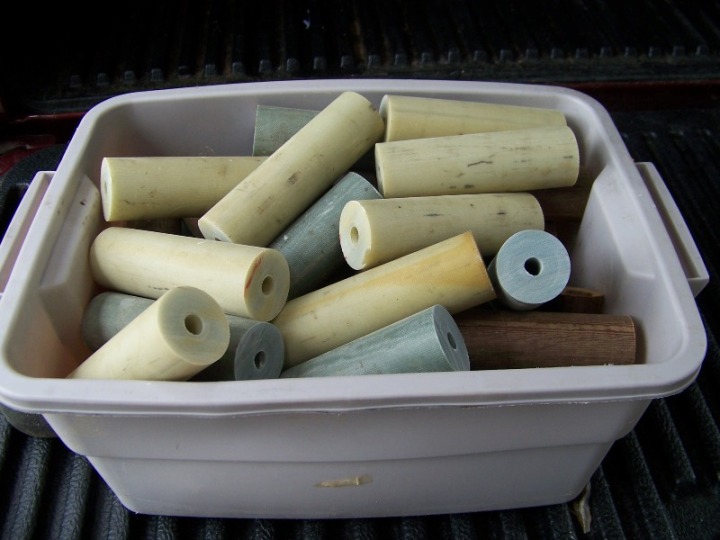 All of these "Mission Memorial" knives are going to be made up with "commando" shaped handles. Once shaped and finished the old G-3 really shines!! Literally!! Here's a photo of the jade G-3 and a piece finished on the first handle of the series.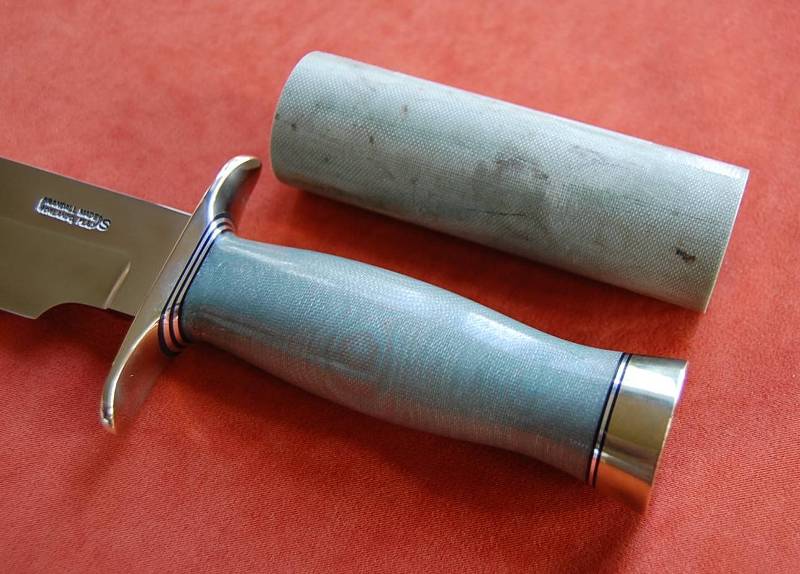 The hardware for the "Mission" knife is top shelf! A nickel silver double hilt, metal spacers and a solid nickel silver butt cap!!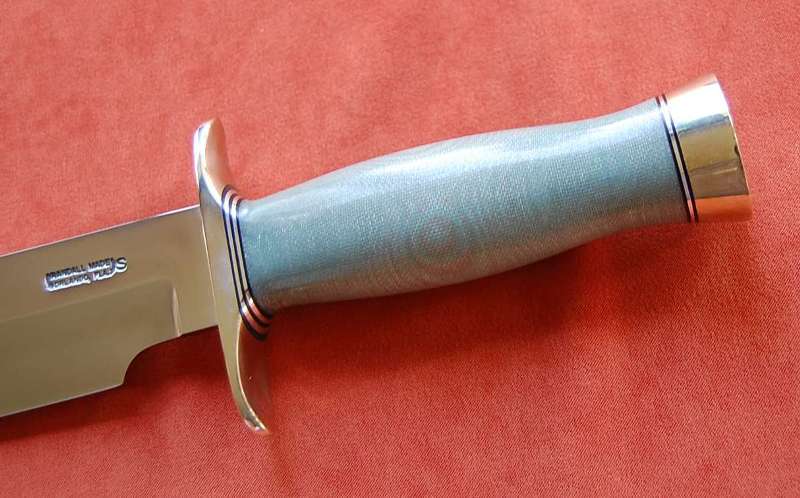 In keeping with the "heft" and large handle diameter, the finished Randall is the largest blade available in stainless steel: A Model #12-9", #14 grind!!...SWEET!!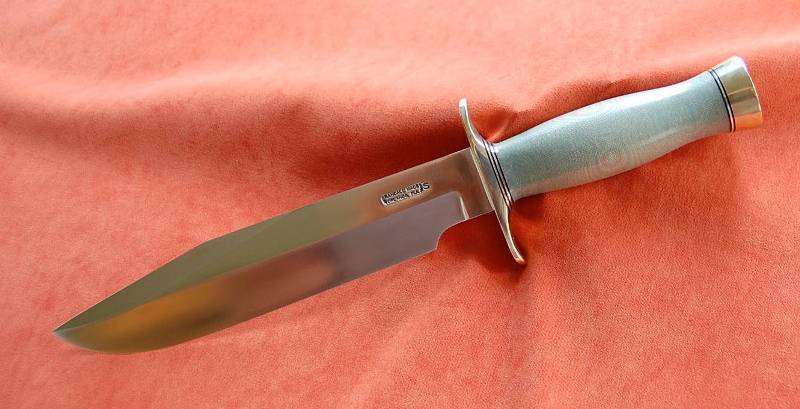 From any angle, this Randall Bowie is very easy on the eyes! Every detail has been carefully thought out so as to present a "Mission Memorial" knife that appears appropriate to commemorate the event that inspired it. Below is the first blade etching. The shop that did this special etching project is in Titusville, Fl. You can see the "VAB" (vehicle assembly building) from the large plate glass window in the shop's lobby!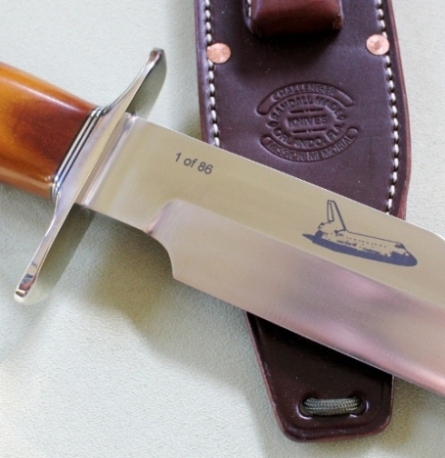 The knives will be shipped within the next 24 months. I have alredy taken deposits at the "Blade" show for 32 knives. I hope ya'll enjoyed the presentation, either at the RKS meeting...or right now!!
Best, Capt. Chris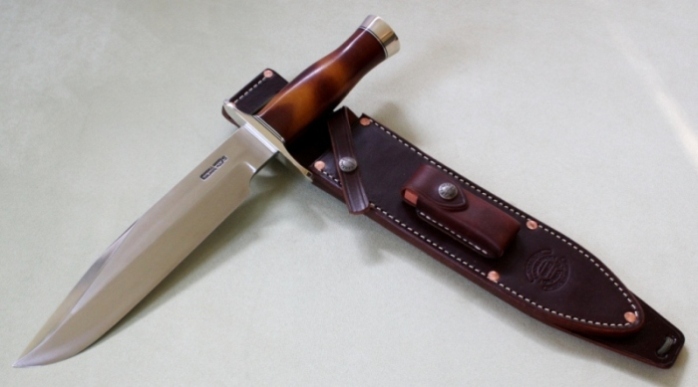 ...and, finally: Let us not forget that this Randall knife...This very special "Mission Memorial" Randall knife, is not just a knife, but also a piece of history!!!

Best for now, Captain Chris Stanaback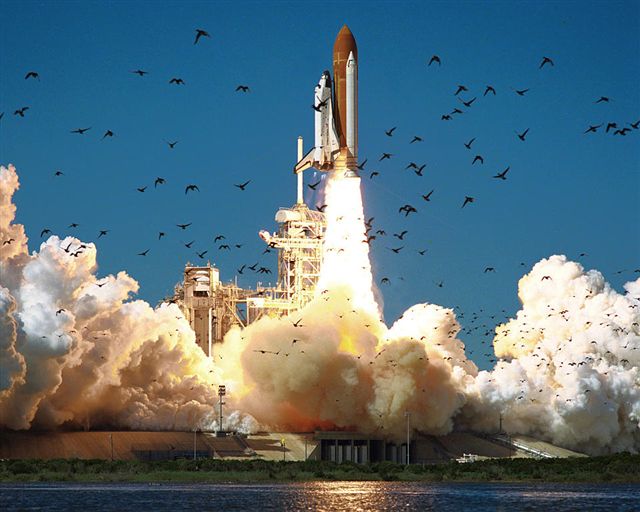 CLICK HERE TO PLACE ORDER DIRECTLY WITH CAPT. CHRIS
*NOTE....Thanks to all for the response. I am sorry to say that all of these knives are sold out!! Please email me if you wish to be placed on the waiting list...again...I apologize. Best, Capt. Chris Stanaback